Okay, this is a continuation of reporting from the Natural Resources Conservation Service (NRCS) meeting that I spoke of in Murphy's Law Blog 2022 – #13 NRCS Meeting. It just got too long for a blog. Anyway, I understand that when producers are dealing with wetlands that there are times when they will call NRCS or some authority asking where/what they can/cannot do.  Farmers want answers ASAP, of course, but the answers take time because of locations, soils, etc. So, this third presentation was on lateral effects which discussed improved science and research concerning boundaries of wetlands for drainage. Jon Peterson and Jennifer Vetter, both NRCS employees, have spearheaded the effort to solidify practices around what is often a controversial issue. They were praised by State Conservationist Mary Podoll for their leadership across several states in attempting to help producers know what distances will be in play for dealing with their wetlands. It would seem the bottom line is that, quite often, these new findings can gain some land for producers but also that the answers for farmers may well be speeding up. I cannot say for sure when all this will be implemented and what kind of results you folks will notice, but I can tell you the above-mentioned personnel have been working very hard to help your situations. Hopefully, when you next call it can go well.
---
Related Posts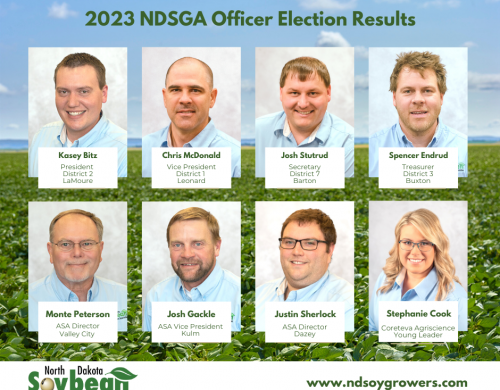 Kasey Bitz of LaMoure re-elected President FARGO, N.D.—The North Dakota Soybean Growers Association (NDSGA) held officer elections...
You may not know about the Upper Great Plains Transportation Institute (UGPTI), an elite transportation research center we have in our state....