Professional Membership
Click here to become a member of NDSGA online! 
If you are paying by credit card, call 701-566-9300.
Or, download this membership application (PDF) and mail it to the NDSGA. 
There are many exciting benefits to take advantage of once you become a member. Members are able to receive special vehicle pricing, discounted Cabela's Gift Cards, College Scholarship Opportunities, a discount to Commodity Classic Registration and much more. Get all the details here. 
Free Young Professional Membership
We are happy to offer a free membership to students and young adults. This membership offer is open to any individual ages 18-24. Student and Young Adult Members receive some of the same benefits of a regular member, but at no cost to them. Student and young adult membership form is here.
Date of birth is required on all applications to confirm eligibility.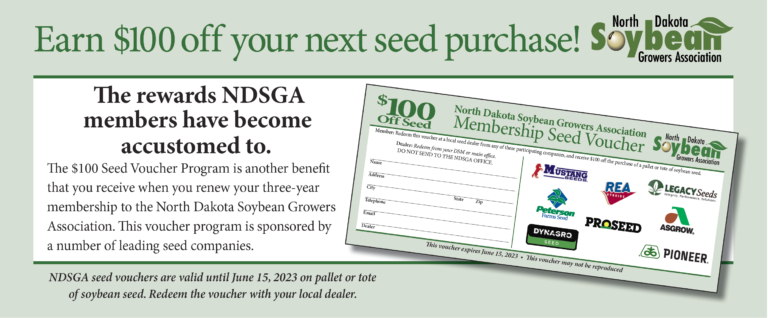 When you become a member of North Dakota Soybean Growers Association, you also become a member of the American Soybean Association (ASA). That means you're receiving an even greater return for your membership dollars since they're funding advocacy and policy achievements at both the national and state levels. It's twice the voice and twice the benefits, including:
When you become a member, you will receive pertinent information about legislative activity at the state and national levels. We represent you at the state and nation's capitols and work with and inform policymakers on several key issues to build a better future for rural North Dakota, such as:
EPA Regulation and Oversight
International Market Access
When you become a member, you receive a discounted discounted registration for the annual national Commodity Classic Convention and Trade Show. Also, locally, meet with peers to learn more about soybean farming at events like the annual local Northern Corn and Soybean Expo, which features notable speakers, helpful seminars and industry-leading companies demonstrating the latest products and services.
Visit the NDSGA booth at the annual Big Iron Farm Show!
Be part of the soy team! Golf at one of our fundraising events!
Corteva Agriscience and ASA Young Leader Program – A two-part educational program for individuals and couples with an interest in agricultural leadership. Young Leaders was and continues to be a ground- breaker, recognizing the value both partners play in a farming operation even when one is employed off the farm.
Meet the present and past North Dakota Corteva Agriscience and ASA Young Leaders:
2015 – Jarred Billadeau
2013 – Jay Gudajtes
2011 – Ryan Richard
Ten percent discount on Cabela's gift cards purchased on soygrowers.com
Preferred pricing on the purchase or lease of most new Ford, General Motors, Chrysler, Dodge or Jeep vehicles, up to twice a year. Click here for a Discount Summary and Discount Examples. For assistance with the OEM Vehicle Discount Program, contact the Clean Fuels Alliance America Discount Hotline at 1-800-841-5849 or American Soybean Association, contact Farris Haley at 1-800-688-7692 Ext. 1284. 
$100 off your seed purchase from participating companies for a new or renewed three-year membership.
Hotel discounts from Northridge Hospitality Group. Call the hotel and ask for the North Dakota Soybean Growers Association discount. You'll need your member number. Call 701-566-9300 if you need a member number reminder. Click here for hotel names, addresses and phone numbers.
With your membership, your children and grandchildren gain scholarship eligibility and opportunities to compete for an annual $5,000 NDSGA and $5,000 ASA Soy Scholarship for students pursuing agriculture-related degrees.