Last weekend while out in western North Dakota, the newborn calves were scampering around while some were seeing their first day in relatively decent weather. Hopefully those ranchers were able to offer some shelter from the whiteout conditions that is now going on while I type now that I'm back in the eastern side of the state. Like soybean farmers seeing the fields sprout anew, those frisky critters are sure to bring smiles and hope to those ranchers. I cannot help but worry about the heartbreak should significant losses occur. They spoke to me of needing the moisture but in the form of snow and lingering cold, not so much.

The Water Drainage committee met again Monday in their effort to bring changes to how Water Resource Districts (WRD) function and their relationship with the Department of Water Resources (DWR). Most agree, as earlier reported, on combining conflicting Century Code and that fine tuning continues. More in question is how to change or if to change the benefit/cost analysis for drainage projects.
Chairman Luick is concerned that some projects have landowners who believe that costs exceed benefits. He also said that the process needs uniformity from county to county. WRD Association leader and attorney Jack Dwyer asserts that WRDs already do some of that analysis and told the committee that landowners vote to tax themselves for assessed drains because they see the benefits. The committee was discussing "snagging and clearing" and Mr. Dwyer told them what it was used for.
There were discussions about the appeals process that were far ranging with one of the upshots described by the DWR Attorney Jen Verleger, who stated that there is confusion about when a final decision is made by a WRD which often leaves the hearing open for further input. She asked that the committee firm up that process and then allow the appeals process to proceed from when the hearing is closed, so that they know what it is that they may be mediating on or judging for appeal. Upon questioning, she stated that from 2010 to 2021, of the 19 appeals to the DWR, 10 were dismissed and only one went to District Court. DWR economist Dr. Pool said that the goal with benefit cost analysis is to ensure that taxpayer dollars are spent efficiently while WRD representative Dwyer spoke of the great cost associated with having to do the analysis. If you think this is involved and/or confusing, watch the committee meeting available online.

If you wish, check to see that your Township knows that they can apply before May 31 at 5 p.m. for the NDDOT Township Transportation Funding Program. There is $10 million that could be matched up to $20 million or more due to a bill that passed this spring. How the Feds will work this with the DOT is yet to be determined, but Director Panos is working on it.
---
Related Posts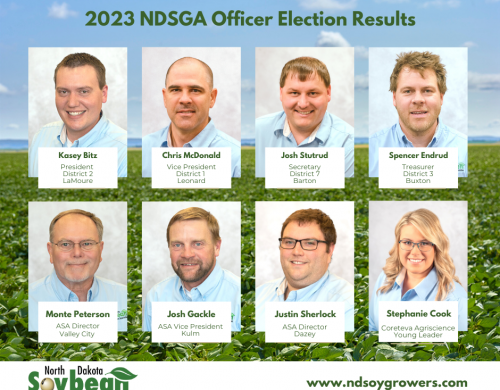 Kasey Bitz of LaMoure re-elected President FARGO, N.D.—The North Dakota Soybean Growers Association (NDSGA) held officer elections...
You may not know about the Upper Great Plains Transportation Institute (UGPTI), an elite transportation research center we have in our state....