The program started out with an explanation of the water permitting process from Chris Bader from the Department of Water Resources. He apologized up front for saying "State Water Commission," the agency he has worked for his entire career because, as mentioned in a couple previous blogs, it is now called the Department of Water Resources. Anyway, the permitting process has a lot of steps but fit the audience of forty or so people interested in irrigation.

Later in the day, the same presenter spoke of the impact of drought on our aquifer levels. The upshot is that some areas, most notably around Oakes, are fairly sensitive to drought. He told me that if 2022 is like this year, we will begin to see impacts in our aquifers. Some are larger and have less demand such as where I live in Traill County where there is pretty good water and very few irrigation pivots. No one can predict what weather is going to do, as if you farmers don't know that. Senator Kevin Cramer was going to Zoom the group on Federal Irrigation policy, but the death of Bob Dole required him to excuse himself. His representative talked about a bill that he is putting in to help get power to farmers who wish to use water to irrigate from the McClusky Canal. But it is yet to get a hearing let alone pass out of committee and get attached to a bigger bill. It will be a slow process.

Then a spokesman for the Garrison Diversion Project talked about trying to help potential irrigators utilize the remaining 16,500 acres that are authorized to be irrigable. There are currently 7.200 acres under production that use water from the canal. Funding Resources for Irrigation and Lending Opportunities were discussed by DWR and the Bank of ND.

Over in the General Session of Water Users running concurrently, attendees were treated to updates on the major projects underway in ND. They included the Fargo Diversion, NW Water Supply, Western Area Water Supply, the Southwest Pipeline Project, Minot Flood Protection and Red River Water Supply,



---
Related Posts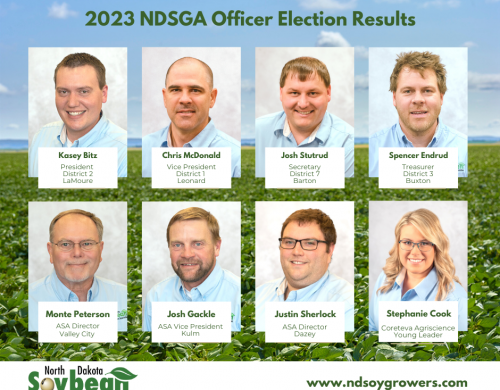 Kasey Bitz of LaMoure re-elected President FARGO, N.D.—The North Dakota Soybean Growers Association (NDSGA) held officer elections...
You may not know about the Upper Great Plains Transportation Institute (UGPTI), an elite transportation research center we have in our state....