Today, I was able to join Representative Paul Thomas and the North Dakota Ag Commissioner in testifying favorably on HB 1148. The bill establishes a $15 million Ag Infrastructure Fund whereby political subdivisions could access up to $2.5 million to help with costs associated with value added projects. As an example, NDSGA used the $25 million re-do of Stutsman County Road 62 for a 10-mile stretch leading to the Spiritwood soybean crush plant. The subdivision pot is $10 million with $5 million left for individuals updating or starting value added projects. There were city, county and townships testifying as well as Farmer's Union and others. 

Also, SB 2036 combining two conflicting century codes concerning drainage was passed in favor 6-0. NDSGA also spoke in person in favor.

Next Monday, I will be up on HB 1370 at 9 a.m. in House Tax to speak in favor of a sales tax exemption for grain storage. Could be a heavy lift but we gotta try. Lots of bills next week and I will try to keep you up on them.
---
Related Posts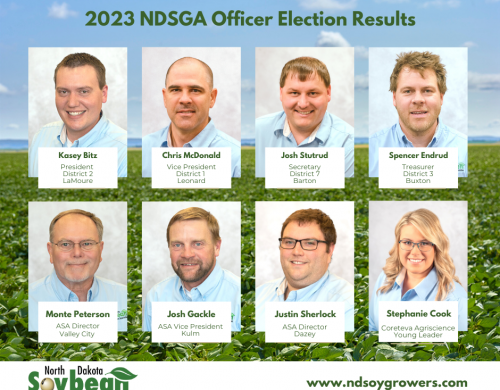 Kasey Bitz of LaMoure re-elected President FARGO, N.D.—The North Dakota Soybean Growers Association (NDSGA) held officer elections...
You may not know about the Upper Great Plains Transportation Institute (UGPTI), an elite transportation research center we have in our state....