This is the fourth official legislative day and the sixth day of people meeting to make laws. So far, 441 bills have been put into the system for review and most expect there to be somewhere between 1,200 and 1,400, eventually. Last session there were approximately 900. There are a couple of weeks left to introduce, so rumors abound as to what is going to appear, and reasons why more have not.
Besides the flex funding discussed in blog #2, here are other topics that have been spat out: Bridges have one (HB 1127) that allows counties to replace a bridge that is washed away without a lengthy bid-letting process. Another (HB 1147) would use Legacy Fund earnings to establish a $100 million county and township bridge fund. Drainage bills include SB 2036 which fuses two parts of the Century Code to reduce confusion and SB 2037 establishes more control over drainage by the Department of Water Resources as well as an economic analysis on every parcel in an assessment drain area. HB 1148 would bring about an ag infrastructure fund that would flow through the North Dakota Department of Agriculture's office. Animal feeding is intertwined with corporate farming laws, and we will see something soon along with on-farm storage sales tax proposals. So far there is a lot of Jell-O yet to be poured into molds let alone firmed up.  
---
Related Posts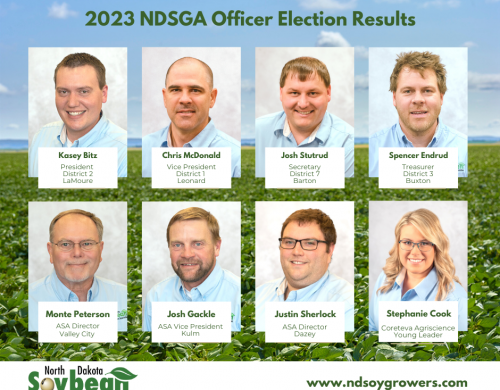 Kasey Bitz of LaMoure re-elected President FARGO, N.D.—The North Dakota Soybean Growers Association (NDSGA) held officer elections...
You may not know about the Upper Great Plains Transportation Institute (UGPTI), an elite transportation research center we have in our state....