The first Agriculture and Energy summit was held at the Fargo Radisson on Tuesday, November 9 in the afternoon. Hosted by the Commerce Department, it was taking a stab at getting players together looking for synergies seeing as, and I quote the ND Commerce Dept.'s Josh Teigen – "70% of North Dakota's GDP is related to oil and soil." Gotta nice ring to it, does it not?
I have to tell you that I missed about half of this event due to attending SBARE across town, but knowing most in the room I can tell you that the biggies from oil, gas, pipelines, coal and wind were there. Also, and key to the industries working together, refineries were in attendance.
On the Ag side, Bushel explained how their software company saves elevators and farmers time and money. Seed companies were invited, Grand Farm, a smattering of farmers, equipment manufacturers, wheat, corn and soybean commodity groups were represented along with other ag interests. Some legislators were there so thank you for taking part. Your executive director Nancy Johnson was able to insert an actual farmer (Ryan Pederson) into the panel which discussed the intersections of the two industries and he kept it real for everyone. On the national BioDiesel Board, Ryan also knows how things like changing technology can be a tremendous boon and yet frustrating at times to implement. When asked how he saw opportunities for energy and Ag to work together, a natural gas processing plant producing nitrogen fertilizer was top of mind. Of course, the growing emphasis on oil from soybean crush which becomes renewable fuel when paired with the energy industry was also discussed. Hopefully these partnerships will blossom and this nexus of our state's giant industries will continue to grow. The Lt. Governor wrapped it up with that sentiment as he and the Governor are promoting value-added projects.

You may have seen some media on the upcoming Special Session this week. NDSGA will be advocating for spending the available ARPA $ now for water projects, roads and bridges rather than hold some back as some are advocating. It is one time money from the Feds and it's a Special Session partly for that purpose – why wait for inflation to eat away at it? We will also be asking for more storage sheds so that NDSU Research and Extension can house its expensive equipment. Guessing here that you probably do not leave your new stuff outside all year if you've any choice at all. With $54 million unspent, $8 million of it to solve that problem seems doable. Message your legislators to that effect, please.
---
Related Posts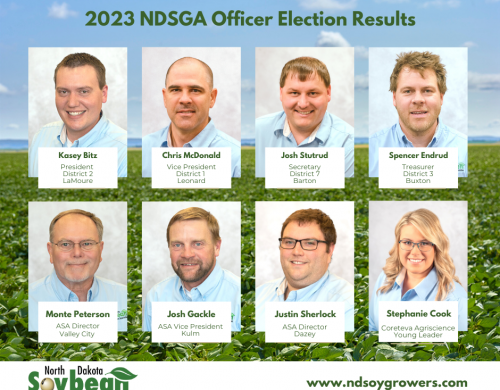 Kasey Bitz of LaMoure re-elected President FARGO, N.D.—The North Dakota Soybean Growers Association (NDSGA) held officer elections...
At this point, the conference committee discussion on how to reduce property tax and income tax appears to have a tentative solution.Senate...