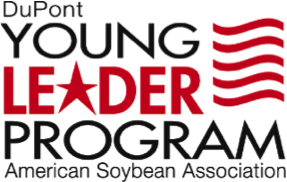 The North Dakota Soybean Growers Association (NDSGA) is seeking applicants for the 2016-17 DuPont Young Leader Program.
For more than 30 years, the DuPont Young Leader program has helped develop grower leaders who continue to shape the future of agriculture.

"The DuPont Young Leader Program has had a tremendous impact on the soybean industry and many of our current grower leaders at the national and state level are program alumni," said American Soybean Association President Richard Wilkins, a farmer from Greenwood, Del. "The program provides industry-leading training that develops the participant's leadership potential while fostering collaboration among farmers throughout the U.S. and Canada. Young Leader participants gain experience while building life-long friendships. The program continues to be groundbreaking, encouraging diversity and recognizing the important role women and young farmers play in agriculture as it has since its inception in 1984. We can't thank DuPont Pioneer and DuPont Crop Protection enough for their longstanding support of the program."

The DuPont Young Leader program is a challenging and educational two-part training program. Phase I of the training takes place at the DuPont Pioneer headquarters in Johnston, Iowa, Nov. 29 – Dec. 2, 2016. The program continues Feb. 28 – March 4, 2017 in San Antonio, Texas in conjunction with the annual Commodity Classic Convention and Trade Show.

"Every year we continue to be amazed by the passion and enthusiasm of each class of young soybean leaders," said Tim Glenn, President, DuPont Crop Protection. "DuPont values the long-standing partnership with the American Soybean Association in support of the DuPont Young Leader program as it strives to shape the future of agriculture."

Grower couples and individuals are encouraged to apply for the program that focuses on leadership and communication, agricultural information and the development of a strong peer network. The NDSGA will interview applicants to identify the top producers to represent North Dakota in this program.

Applications are being accepted online now. Interested applicants should click here for additional program information and to apply. The deadline is August 1.
---